Since 2003, Fusion Fitness Studio has been changing people's lives for the better. Our mission: total fitness & performance. Our unique back-to-basics approach has successfully helped our clients look better, feel better, move better and live better than ever before.
We understand that people come in all shapes and sizes; skills and abilities. Regardless if you are beginner or a professional athlete, we believe the journey to success involves working smart and having a little fun along the way. Get ready to tear down obstacles of the mind and body. Begin your journey of self-renewal with us today.
Location
1456 Ferry Road
Doylestown, PA 18901
Hours
Open Monday - Friday
By Appointment Only
Battle Ropes

Cable Machines

Suspension Trainers

Barbells

Free Weights

Kettlebells

Flat/Incline Benches

Power Cage

Plyo/Step Boxes

Incline Treadmill

Inversion Chair

Sandbags

Functional Testing

Grip Training Tools
Indian Clubs

Bodyblades

Medicine Balls

Resistance Bands

Jump Ropes

BOSU

Stability Ball

Stretching tools

Foam Rollers

Stretching Table

Truck Tire

Vertical Rope Machine

Agility Ladder

Bathroom
Fusion Fitness Studio Photo Gallery
7 Points That Make Us Unique
We deliver, what other places only promise:

Personal attention by people who care
Cutting-edge programs backed by results
Expert guidance by qualified professionals
# 1 - PRIVATE Personal Training Studio
Personal. Private. Relaxed. No more crowds, waiting for equipment, fashion shows, social gossip sessions, people taking selfies or feeling like you are exercising in a "fishbowl" with all eyes watching you. Depending on the time of day, there may only be 2-3 other people in the studio during your session. At times you and your Trainer may have the studio all to yourself. We promote a positive, inclusive, non-intimidating environment where you can feel comfortable while you train. In this private setting you can be more relaxed, minimize distractions and be more focused during your training session with your Trainer.
# 2 - PERSONALIZED to Fit You
Everyone is a little different. People come in all shapes and sizes – some have: longer arms, shorter arms, longer torso, shorter torso, longer legs, shorter legs, more fast-twitch or slow-twitch muscle, higher neuromuscular activation, weaker activation, strong joints, weaker joints, 'sturdy' body frames, some have lighter body frames, etc. Factoring in YOUR individual body structure will determine which exercise combinations will work best for YOU. Rather than trying to force your body into a 'one-size-fits-all' program like other trainers do… we begin with a blank sheet of paper and create the program to fit YOU.
# 3 - CUTTING-EDGE Movement Testing
When you move better, you live better. One part of custom-tailoring your fitness and performance training to your unique body structure is utilizing the latest technology in movement testing – The Functional Movement Screen [FMS]. The FMS documents movement patterns key to normal human function. By screening these fundamental patterns, the FMS will readily identify body imbalances, functional limitations and asymmetries. These imbalances can lead to poor results, muscle/joint aches, pains and increase risk of injury.
# 4 - PROFESSIONAL Trainers
Experience you can trust. Our professional trainers have decades of experience, nationally accredited certifications from top organizations like the National Academy of Sports Medicine (NASM) and the National Personal Training Institute (NPTI). We also continually pursue additional training from top experts in the fields of anatomy, physiology, movement science, biomechanics, fitness testing and nutrition. We understand that no two bodies are alike and will work with you to ensure you get fit in the right way and at the right pace.
# 5 - A RETURN to PHYSICAL CULTURE
For centuries, exercise fell under the umbrella of a total health, fitness and performance approach called "Physical Culture". During that time, physical trainers only taught personalized total-body movement-based exercise.
Take a close look at these original gyms to the right =>
What do YOU see? A lot of open space for movement-based training and training tools to challenge these total-body exercises like: Indian clubs, barbells, dumbbells, kettlebells, cables & pulleys, medicine ball, ropes.
- Very different from how the gyms of today look, right?
- If all gyms used to look like that…..why did they all change?
Around 1950, exercise changed forever. Exercise machines for isolating muscle groups were invented. Training has never been the same since. People got caught up with all the new bells and whistles. They quickly traded substance, for a bunch of shiny machines and "assembly-line" one-size-fits-all workouts that were easy to teach.
In time, the original more balanced "Physical Culture" approach to exercise, nutrition and healthy lifestyle was discarded. And today, it's practically non-existent. Why is this important? Because most people don't realize that the majority of fitness approaches and programs that came AFTER 1950 were heavily influenced by steroid-using athletes. This is why they offer only limited results for the rest of us.
We've preserved our Physical Culture past and get better results for all!
PHYSICAL CULTURE PRINCIPLES:
• The Human Body is a dynamic living "machine"
• Total-body exercise and workouts are a must for authentic results
• Complete & balanced physical development is the ultimate goal
• Fitness for Life: purpose of training was to create a healthy, strong, fit and energetic body that would increase quality of life and longevity
# 6 - INNOVATION: Past Meets Present
In 2009, after 15 years of in-the-trenches experience as a Trainer, 6 years of painstaking research reviewing physical culture methods of the past and present-day exercise science, 2 years of development and meticulous refinements, Fernando combined the best-of-both into a unique system you won't find anywhere else. Paredes established his Fusion Fitness & Performance™ training system and finally gave the name "Core-to-Strength" to his key training methodology. Core-to-Strength™ is our proprietary method of "through-the-core" strength training that develops balanced strength, fitness and conditioning throughout the entire body. A system that consistently delivers efficient and effective results.
# 7 - AUTHENTIC Health, Fitness & Performance
• Is based on the time-proven principles of Physical Culture
• Uses total-body movement training instead of isolating muscles
• Works all muscles of the body, large and small, together as a team
• Effectively combines strength, cardio, core, flexibility, balance, and endurance – for a more complete & balanced workout
• Creates "smart" muscle and authentic strength you can readily use along with a balanced body that is less prone to injury
FUSION Fitness Studio is like a throwback to the original, but with a 21st Century twist. We've returned to the original methods and "fused" them with present-day scientific knowledge and technology.
The Physical Culture approach of total-body movement-based exercise still works better than anything else out there today. And when you combine it with today's science, put the personal attention back in – customizing the approach to fit the needs of each individual – you have a combination that is hard to beat. Come in and try it for yourself…. you'll become a believer.
Professional Recognition
- INTERNSHIP Opportunities with Fernando
Due to his innovative training approach, credentials and experience, Fernando has had the honor of hosting various student interns from local area high schools, colleges and universities: Middle Bucks Institute of Technology, The Pennington School, DeSales University and Bloomsburg University.
- NASM Trainer Development
In 2015 we had the honor to be selected by the National Academy of Sports Medicine as a top-tier facility to host mentorships for new trainers. The NASM-CPT Development Program offers newly certified NASM personal trainers the opportunity to complete an 8-week training program where they'll get hands-on experience, applying training techniques, engaging with clients, and learn day-to-day operations.
Fusion Fitness Studio is proud to be a part of this NASM program that helps prepare new trainers for a successful career.
Physical Culture Photo Galleries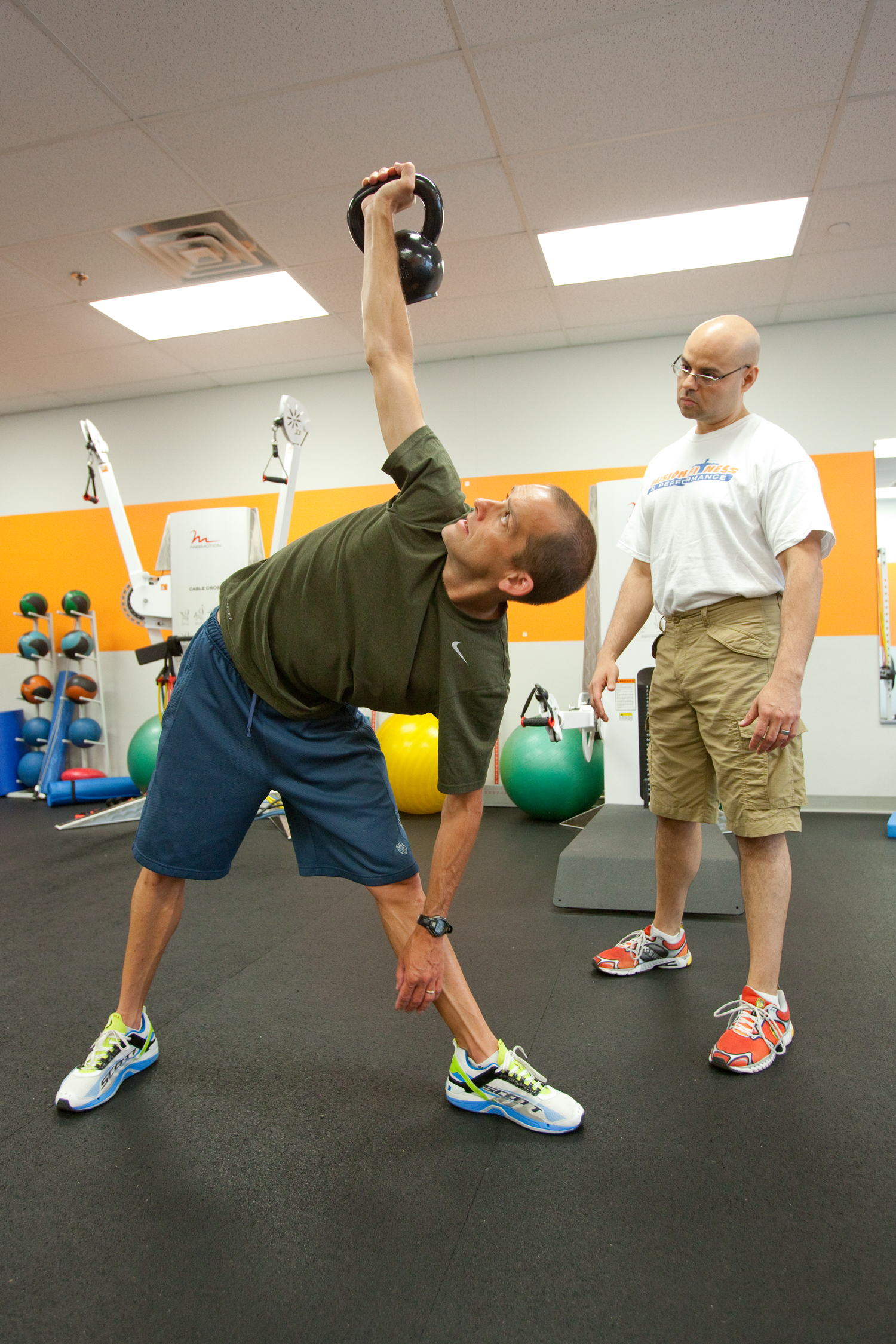 Fusion
Fitness Studio, Est. 2003 Modern-Day Physical Culture
Fernando's New Fitness Show - Fusion Fitness & Performance TV!